Osteoarthritis Treatment Emphasis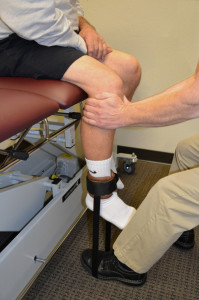 • Pain Management Strategies
• Joint Protection Strategies
• Disease Management
• Arthritis appropriate aerobic exercises
• Patient specific strengthening Exercises
Advantages of Physical Therapy
• Restore mobility
• Reduce pain
• Decrease stiffness
• Increase Comfort
• Regain functional mobility
• Teach Pre surgery exercises
Joint replacement surgery is a common treatment option for severe OA. Each year 1 million new total knee and hip replacements are done in the U.S. Early postoperative physical therapy following hip and knee replacement surgery is critical in restoring pain-free function and improving quality of life.
Joint Replacement Postoperative Emphasis:
• Achieving Early Mobility
• Maximizing knee extension
• Restoring normal gait
• Restoring Quad/ VMO Muscle Recruitment
• Balance Training
• Weight bearing and safety precautions
• Restoring Function
As joint care specialist, we use our experience in biomechanics, functional movement, neuromuscular re-education, tissue healing and our patient's goals to guide our treatment.
Our Physical Therapy Treatments Include
• One-on-one session with a physical therapist
• Hands-on, manual therapy emphasis
• 17 Years Experience in Joint Replacement Rehab
• Private, professional setting
• 60 Minute Sessions
• Exercises specific to our patient's deficits and goals